Vibrational Spectroscopy Laboratory
About the Laboratory
Vibrational spectroscopies are techniques that measure bond vibrations and allow researchers to identify various functional groups and molecular bonds within their samples. The two techniques available in the SSSC are Raman and Fourier Transform Infrared (FTIR) spectrocopies which detect changes in a chemical bond's polarizability (ie. electron cloud around bond) and dipole moment, respectively. Both techniques are very complimentary, and can be used in many multi-disciplinary applications including:
Materials characterization
Catalysis characterization
Biological samples (protein secondary structure) and tissues
Geological samples - mineral identification
Plant materials and biomass samples
In situ monitoring
Laboratory Contact
Location:
B9B
B1

Laboratory Managers:
Jason Maley
Raman and FTIR
Raman and Fourier Transform Infrared (FTIR) are vibrational spectroscopies that detect changes in a chemical bond's polarisability (ie. The electron cloud around bond) and dipole moment, respectively. Both techniques are complimentary, and many vibrational modes are both Raman and IR active. In some cases, when there is a center of inversion in the crystal symmetry of the material, some vibrational bands will be only Raman active or IR active (not both – rule of mutual exclusivity). The Renishaw Invia Reflex Raman microscope (Renishaw, Gloucestershire, UK) located within the SSSC is its only kind in Canada, as it also equipped with an IlluminatIR II FTIR microscope accessory (Smith's Detection, Danbury, CT). In addition, the Invia Reflex microscope supports multiple laser wavelengths, along with sophisticated software that allows automatic switching of lasers. This allows multiple excitation wavelength Raman and FTIR spectroscopies to be obtained on the same spot with relative ease for the general user!
Raman or FTIR…..Which one should I use?
This is a common question we often get asked, and the choice of using Raman or FTIR spectroscopy will depend on what kind of desired information and the sample composition. Both techniques are complimentary and provide information from molecular bond vibrations. The table below describes some of the differences:
FTIR spectroscopy measures changes in the dipole moment of a chemical bond. It is well suited for identifying functional groups for organic materials, and fluorescence material is not a problem. The diamond-ATR objective is well suited for powders and other solid materials. The back-aperture can go as small as 10 µm spot size. The ARO objective is well suited for small particles and thin sections. Some of the sample limitations for FTIR include:
Wet materials – H2O is a major contaminant in FTIR spectroscopy

Thermal degradation – organic materials that have been degraded to amorphous carb on do not provide a good FTIR spectrum
Raman spectroscopy is a light scattering process in which inelastically scattered photons are measured from a high powered laser focussed on a sample. Raman spectroscopy measures the vibrational and lattice vibrations when there are changes in the polarizability of a molecule (ie. A distortion of the molecule's electron cloud during vibration must cause the molecule to interact differently with the electric field of the incoming photon). Raman spectroscopy is ideally suited for:
Graphitic materials (C=C stretch not seen in IR spectrum, but large change in polarizability)

Various minerals and metal oxides

Pharmaceutical products

Polymorphisms, crystallinity distortions

Raman confocal microscopes ideally suited for measuring embedded materials

Raman maps with sub-mm resolution

No interference from water – live cell imaging possible
Some of the limitations include:
Sample fluorescence. 
Low S/NThe S/N can be low for some materials.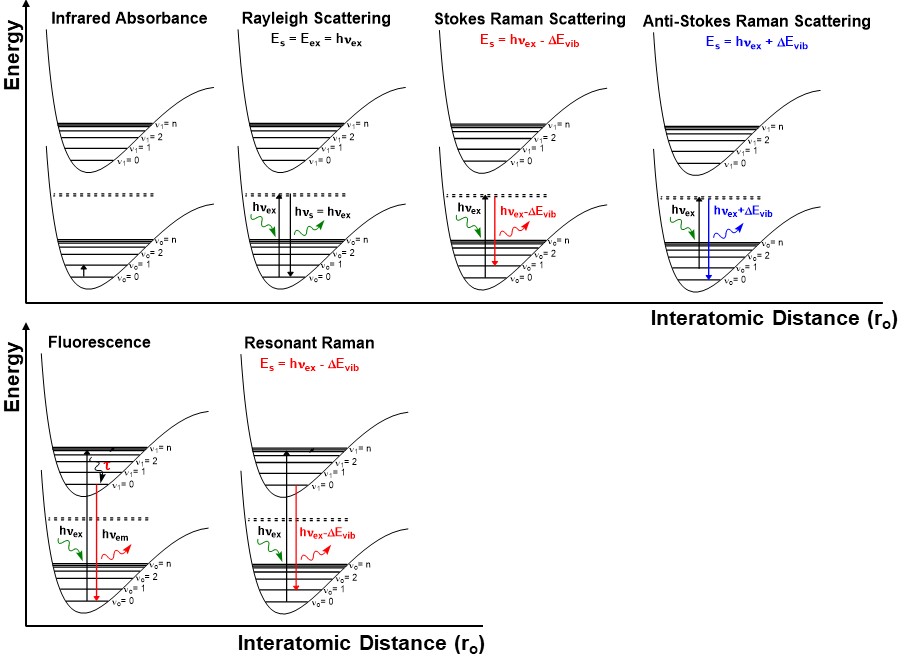 Figure 1. Infrared spectroscopy measures vibrational transitions by changes in the dipole moment of the different molecular bonds.  Raman spectroscopy typically uses a high powered laser source (hνex) which excites electrons to a "virtual state" located between the electronic ground state and excited state. The majority of the photons will scatter elastically on the sample surface, and is commonly known as Rayleigh scattering. A small portion of the photons will be scattered inelastically (approx.1 part in 10 million) due to its interaction with the vibrations in the material. The Stokes Raman scattered photons are slightly absorbed by the material and will be at a slightly lower energy (red-shifted) compared to the incident photons. The antistokes Raman scattered photons gain a slight amount of energy from the material (blue-shifted). Resonant Raman spectroscopy is observed when the hνex source is near the same energy as an electronic transition. Electrons are excited into the higher electronic state and leads to an increase in Raman intensity (as much as a factor of 106). Fluorescence is the main interference of Raman spectroscopy, and generally occurs when the hνex source is near the electronic transition energy, or it could originate from the sample matrix. Because fluorescence is much longer lived excited state lifetime (τ) compared to Raman transitions, the fluorescence emission will generally mask the Raman peaks.
Training Information
The Raman/FTIR microscope open to any academic research group. SSSC personnel will first train researchers on the instrument and offer assistance in experimental development if needed. Training typically lasts 1-2 hours. After training, researchers may use the instrument independently and reserve the instrument time through SSSC Evolution site.
Data Analysis Resources
Renishaw Wire (available at SSSC)